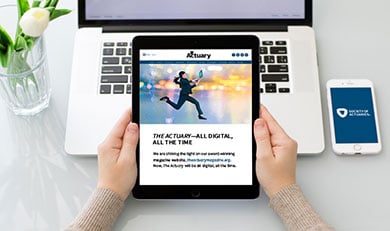 We're shining the light on our award-winning magazine website. The Actuary will be all digital, serving up thought-provoking articles, interviews and information that keeps you on top of actuarial trends. See what's in store.
Tiffany Tatsumi, SOA academic administrator and Brenda Sawyer, SOA education coordinator discuss the changes to SOA Validation by Educational Experience requirements and the May and June exams in a new SOA video.
How is the COVID-19 pandemic affecting retirement risks, the insurance industry, mental health? Read the latest SOA Research and listen to podcasts with leaders in the industry.
Submit your nominations for the Annual Outstanding Volunteer and Lifetime Volunteer awards.
There's more to professionalism than behaving ethically. There's knowledge, trust, commitment, and so much more. Read The Actuary for a broader look at what professionalism is all about.
"As a learning opportunity, as a leadership opportunity, and as a personal growth opportunity, joining the Predictive Analytics and Futurism Section Council has not disappointed!" says Michael Niemerg, FSA, MAAA. Express your interest by May 29.
Get a clear picture of the concrete applications artificial intelligence and machine learning can have for the life and annuity insurance industry.