By Laurie Derechin
The University of Minnesota's Minnesota Center for Financial & Actuarial Mathematics and the University of St Thomas's Actuarial Science Program are proud co-sponsors of North America's premier Actuarial Research Conference (ARC) starting the evening of July 27th and running through July 30th, 2016. The theme of the conference is "Strengthening Industry and Academic Collaboration" with 108 breakout sessions on research, education, actuarial trends and professionalism, including twelve invited tracks and three keynote speakers. The website for the conference is http://math.umn.edu/mcfam/events/arc/.
The hosts have undertaken a broad planning process with leaders of both actuarial programs along with many local actuarial practitioners from 20 companies in the Twin Cities area and nationwide. The 2.5 days of keynote speakers, panels and break-out sessions cover the areas of property & casualty, life/retirement, health care and reinsurance. Just a few of the specific conference topics include Modeling Efficiency, Enterprise Risk Management, Big Data & Predictive Modeling, Regulation, Climate Change, Investment Risk Analytics, the Current U.S. Health Care Landscape, Longevity and the impacts all these areas have on insurance.
Twin Cities
Keynote speakers reflect the subjects covered in the conference
Dr. Jay Olshansky is from the University of Illinois at Chicago. His research focus to date has been on estimates of the upper limits to human longevity, exploring the health and public policy implications associated with individual and population aging, forecasts of the size, survival, and age structure of the population. Dr. Olshansky is on the Board of Directors of the American Federation of Aging Research and is the first author of The Quest for Immortality: Science at the Frontiers of Aging (Norton, 2001).  
Dr. Lysa Porth holds the Guy Carpenter Professorship in Agricultural Risk Management and Insurance at the University of Manitoba's Asper School of Business. Much of her research has primarily focused on developing innovative risk management products to achieve more stable incomes for agricultural producers, as well as more efficient risk management solutions for agricultural producers in Canada, and the world.
Dr. Jon B. Christianson holds the James A. Hamilton Chair in Health Management at the University of Minnesota's School of Public Health. His research specialties include evaluation of treatment processes, competition and competitive health care markets, health insurance, and financial incentives in health care. His current focus is on the public reporting of provider performance, employer strategies for purchasing health care and implementation of evidence-based treatment processes in health care. Among his many duties, Dr. Christianson is vice chair of the Medicare Payment Advisory Commission (MEDPAC).
Conference venue and events
The conference will take place at  McNamara Alumni Center on the east bank of the University of Minnesota. The two 2016 ARC University co-hosts and our generous sponsors will treat attendees to a taste of both Minneapolis and St. Paul with two big social events and a welcome reception on the eve of the conference. The welcome reception will be held in Minneapolis at the University of Minnesota's Weisman Art Museum, designed by Frank Ghery. There will also be a Gala Banquet at the University of St. Thomas in St. Paul on July 28th. On Friday evening, conference attendees will cruise down the Mississippi River in St. Paul on the Betsy Northrup Paddleboat with live music by famous jazz musician Butch Thompson. 
University of Minnesota McNamara Alumni Center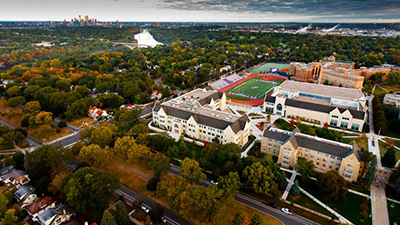 University of St Thomas
51st ARC Sponsorship
Companies and professional associations are giving generously to sponsor the conference. A variety of different companies involved in the 2016 ARC Organizing and Scientific committees are helping make this ARC one of "Strengthening Academic and Industry Collaboration." This includes Ameriprise, Allianz Life of North America, The Travelers Companies, Thrivent Financial, Securian Financial Group, Arch Insurance, Cigna Healthspring, Mercer, SCOR Global Life America Reinsurance Company, Gross Consulting, Aon Hewitt, Delta Dental, United Health Group, Towers Watson, Milliman, Blue Cross Blue Shield, SOA, CAS and Coaching Actuaries.
Booth sponsorship is also available. If your organization is interested in contributing to the 2016 ARC in the Twin Cities please contact Laurie Derechin at  lderechi@umn.edu.
Registration & Call for Papers/Presentations Open
Registration for the conference and the Call for Papers and Presentations is now open. The deadline for abstract submission is May 31, 2016. If you have any questions immediately regarding the 51st ARC, contact ARC-info@umn.edu. 
Laurie Derechin is the executive director of the Minnesota Center Financial & Actuarial Mathematics in Minneapolis, Minn. She can be reached at lderechi@umn.edu.